Peer Support
Currently, our main support channel is on the Embarcadero Newsgroups. As you may know, there is a specific forum for IntraWeb on the Embarcadero newsgroups server.
For web access, use https://forums.codegear.com/forum.jspa?forumID=93. Note that Embarcadero uses a self singed certificate and your browser will warn you about this. Accept it to enter the web forums.
For NTTP access, use the instructions in http://edn.embarcadero.com/article/38435. For NTTP access, use your prefered NTTP client, as for example Mozilla Thunderbird.
IRC and Web Chat
We also run a IRC chat and you ocasionally can chat with the support team and other IntraWeb users.
Free IRC Clients
Priority Support
Although we try to support all users, paid users receive priority. As we also run our priority support on the Embarcadero forums, if you are a priority user you just need to identify yourself as such and our support team will give special attention to your posts.
Before posting your question to the newsgroups
Before asking for support, we invite you to check our FAQ database. You can also search the Embarcadero newsgroups to check if your question has been answered before. Although the Newsgroups Search seems to be broken, you can use a personalized search using Google. On the Google search box type:
"Your Intraweb query" site:forums.codegear.com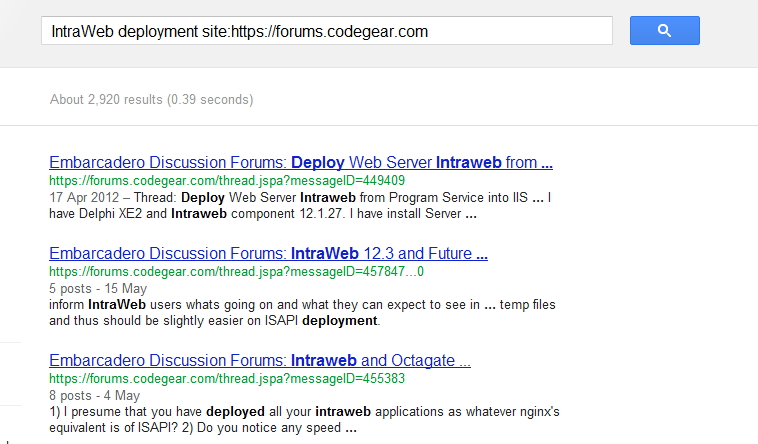 How to post your question to the newsgroups
If you already read the Documentation, the FAQ, searched the newsgroups and still did not find an answer for your question, you are almost ready for your post. Please read the following advices before posting:
Use a subject that clearly defines your problem: This will help subsequent visitors to the newsgroup accurately identify your question/problem and know if they can help you. A subject line of "Help Me" says very little about your problem whereas "How to populate a IWComboBox" lets everyone know what you need.
State your question clearly, using reasonably good grammar so the actual problem can be understood. If people cannot understand what your problem is, they cannot help you.
It's ok if English is not your primary language. If you want, you can make a note in the beginning of your post so that others understand. Just try your best when writing your question.
Describe the problem the most as you can, including details of what you are trying to achieve, what you have done, a link to an online example of your problem, state the exact steps needed to recreate what you are experiencing, etc.
Include the IntraWeb version and release you are using, the IDE version, details about your environment that are relevant to the issue
Include code that is relevant to the issue you are resporting/asking for help
Be patiente